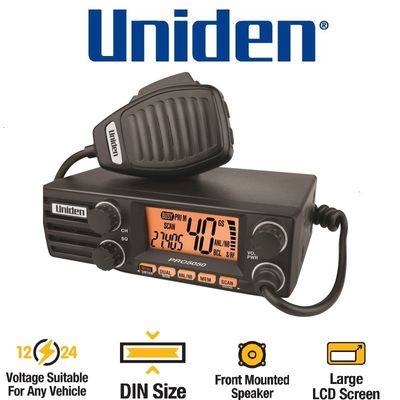 Uniden PRO5050 AM CB Mobile Radio
Uniden
$199.99
or 4 interest free payments of $50.00 with
learn more
The PRO5050 is an AM CB radio equipped with key features such as 4 Watts Maximum TX Output Power, Large LCD screen and Front mounted speaker. Suitable for truck drivers, the PRO5050 provides the best source of communication on the road. Designed and engineered in the finest quality, the PRO5050 is a product of reliability and convenience, offering the best communication and experience.
Select from 2 colour options on the Large LCD Screen delivers improved and easy viewing abilities in low light situations. The PRO5050 front mounted speaker provides optimal sound clarity and volume.
Key Features
40 AM CB Channels
DIN Size with short chassis
4 Watts Maximum TX Output Power
Rear Microphone Jack
Large LCD Display with 2 Colour LCD/Keypad Backlit Options
Signal Strength and RF Power (S/RF) Meter
Instant Channel Programming and Recall
Channel Selector
Large Channel Display
ANL/NB (Auto Noise Limiter + Noise Blanker)
Variable Squelch Level Knob
Group Scan (GS) with Priority Channel Watch
Dual Watch Function
Volume Control Knob
Roger Beep Function On/Off
Call Tone Function
External Speaker Jack
+12V to +24V DC Power Input
DIN Mount Sleeve & Removable Bracket
Built Rugged for Australian and New Zealand Conditions
Whats in the box:
- 1 x PRO5050 Radio
- 1 x Microphone
- 1 x Microphone Hanger
- 1 x DIN Mount Sleeve & Removable Bracket
- 1 x DIN Power Cord with Fuse
Optional Features:
External Speaker (MS-100)*
Extension Cable (EC770)*
* Indicates products that must be ordered upon special request.
SKU: PRO5050